One of our favorite places is downtown St. Joseph, Michigan. We enjoy spending summer days at the beach, or strolling through the downtown area.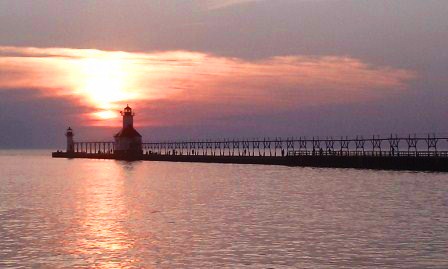 On this particular day, we decided to go into town to see the sunset from the pier rather than from 'our beach'.
We had spent the day at our beach, including cooking hot dogs for lunch, and had planned to go back and have a fire and watch the sunset. We just thought the drive into town would be fun. It is just a short ride from the house.
The sunset was very nice, not the whole sky turned to fire that we were hoping for, but a nice sunset none-the-less. It was a warm summer day, and the sun stays up late in this part of the country. This picture was taken at about 9:20, it is still dusk until after 10PM.